Last Updated on January 13, 2022 by admins
From octopuses to sharks, and enchanting walls of jellies, these are the four biggest aquariums in California that you must visit.
When we think of California, the first things that come to mind are sandy beaches, surfing, and walks along the coast. However, only a few immediately think of the marine life that lies beneath the surface. It could also be because it is hidden from our view deep below the surface of the great Pacific Ocean.
Fortunately, that's why we have a state-of-the-art, biggest aquariums in California that you have to visit once in a lifetime. Keep reading to find out where to go for an unforgettable sea experience.
Monterey Bay Aquarium
Address: 886 Cannery Row, Monterey
Tickets: Adults ages 18–64, $ 49.95 | Youths ages 13–17, $ 39.95 | Seniors ages 65+, $ 39.95 | Children ages 5–12, $ 34.95 | Children ages 4 and under, free
Hours: Daily, 10 a.m. – 5 p.m.
What This Aquarium Has To Offer
The Monterey Bay Aquarium is the most popular and justifiably the best aquarium in California. Dedicated to marine research and conservation, this truly spectacular aquarium is home to more than 35,000 animals and plants. There are over 550 species, and a large part of them belong to the natives of California.
This magical place provides close encounters with Pacific octopus, sardines, hammerhead sharks, or even southern otters – the most beloved inhabitants of this aquarium. Along the bay itself, on the outskirts of Cannery Row, is the first exposed living algae forest.
This community is focusing its efforts on learning and conserving marine habitats. The Monterey Bay Aquarium provides insight into the worlds of sea creatures through educational shows, special exhibits, and close encounters. They also seek to protect the California Ocean by rebuilding the sea otter population, transforming fisheries, and fighting global warming.
In addition to excursions and tours, this place also offers some special experiences such as family sleepovers or diving in a gear at the Great Tide Pool. Don't forget, this aquarium is home to Monterey's favorite mascot, the sea otter.
For more information, visit their official website.
Aquarium Of The Pacific
Address: 100 Aquarium Way, Long Beach
Tickets: Adults, $34.95 | Seniors ages 62+, $31.95 | Children ages 3–11, $24.95
Hours: Daily, 9 a.m.–6 p.m.
What This Aquarium Has To Offer
Located on the Californian coast, the Aquarium of the Pacific is the biggest aquarium in Southern California. It's home to more than 12,000 animal exhibits. Each of them, as its name suggests, is a resident of one of the three distinct waters of the Pacific Ocean. That is the temperate region of Baja (south), the frigid waters of the North, and the lagoons of the Tropical Pacific.
The Tropical Reef Exhibit with its 350,000 gallons is the largest part of the Aquarium of the Pacific. It hosts thousands of colorful fish, coral, sea turtles, as well as sharks. The Southern California / Baja Gallery most vividly depicts the inhabitants of the coast of Catalina Island. Finally, this aquarium has a gallery of the North Pacific, which, among other things, houses the largest species of octopus in the world.
In addition to three main galleries, this spectacular venue also offers a range of outdoor exhibits. That is the interactive Shark Lagoon and the Lorikeet Forest aviary. Then you can visit the penguin habitat and a horseshoe crab touch lab.
This place offers many educational and behind-the-scenes experiences. This is one of those places where you can have a close experience with many species. And with prior training, you can even dive into their exhibition.
Also, in addition to being open to the public, this community works on the breeding and rehabilitation of endangered species, sustainable seafood, community education/science, and more.
Click here to learn more about this unique place and experience.
Aquarium Of The Bay
Address: Pier 39, The Embarcadero & Beach Street, San Francisco
Tickets: Adults ages 13–64, $29.25 | Seniors ages 65+, $24.25 | Children ages 4–12, $19.25 | Children ages 3 and under, free
Hours: Daily, 10 a.m.–6 p.m.
What This Aquarium Has To Offer
Our next biggest aquarium in California is located on the historic coast of San Francisco. The Aquarium of Bay with its tunnels holding approximately 700,000 gallons provides a home for more than 20,000 animal species.
This enchanting place provides close encounters with some of the most beautiful types of marine animals in the world. Here you can meet sharks and rays, octopuses, jellyfish, anchovies, river otters, and much more.
Walking through these massive tunnels is certainly one of those experiences that everyone should have at least once in their life. It's a way to get up close and personal to the most beautiful marine species California has to offer.
Finally, it is important to note that The Aquarium of Bay does not only have a tourist and entertainment character. Its other task/character is to find solutions to climate change, plastic pollution, and habitat loss.
Check to see if this place will have a life-changing impact on you.
For more information, visit their official website.
Cabrillo Marine Aquarium
Address: Cabrillo Marine Aquarium, 3720 Stephen M. White Drive, San Pedro, CA 90731, 310-548-7562
Tickets: A suggested donation of $5 adults, $1 children, and seniors
Hours: Wednesday through Sunday – 12 noon to 5 pm
What This Aquarium Has To Offer
Not far from the Aquarium of the Pacific is another aquarium in Los Angeles. The Cabrillo Marine Aquarium provides the most comprehensive overview of life just off L.A.'s beaches.
Its main exhibition hall has as many as 40 individual tanks that provide a close experience of the flora and fauna of the area. In addition to the exhibition halls, this California aquarium also has The Exploration Center and Aquatic Nursery where you can get an insight into the activities of the Cabrillo Marine Aquarium.
You can even attend their breeding programs for rare animals like giant sea bass and black abalone. The best thing is that it is close to the Cabrillo Coastal Park which provides a great place for bird watching. So, this place offers you several different experiences at once. Everyone can find the activity that interests them the most.
Check out their official website for upcoming events, hours, ticket prices, and information.
Ultimately,
Aquariums are places that allow close experience and interaction with several marine species that you probably would never. Don't go any further, stop, enjoy and admire what the ocean has to offer.
What is your favorite biggest aquarium in California? Let us know in the comments.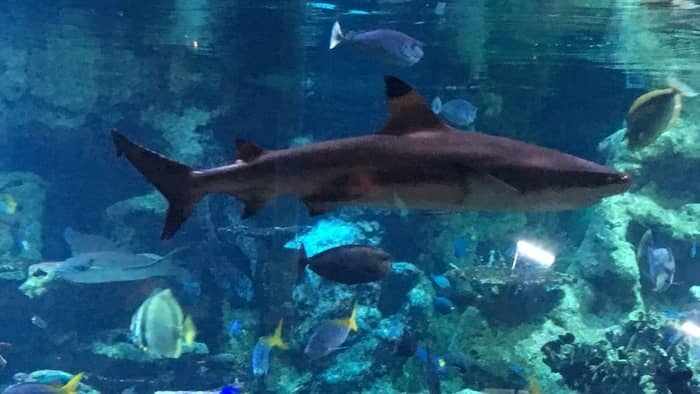 You may also be interested in: