Last Updated on October 21, 2022 by admins
Top Fin is one of the leading brands of aquariums in the fish industry. So, who makes Top Fin aquariums? This leading brand of aquariums and fish care products has become popular all across the United States.
Top Fin not only sells aquariums but also pumps, filters, stands, plants, decorations, accessories, and more. They are a top choice for many beginners and intermediate aquarium owners. They offer a wide variety of high-quality products for all your fish care needs.
Who Makes Top Fin Aquariums?
Top Fin's manufacturer is United Pet Group. Spectrum Brands is the owner of United Pet Group. The manufacturer of Top Fin is based out of Earth City, Missouri.
Top Fin is an exclusive brand available only at Petsmart. You will not be able to find Top Fin aquariums at any other pet store. However, you may find their products sold through online retailers such as Amazon and eBay.
About Top Fin
Top Fin sells over 700 products at Petsmart. Their prices range from $1.99- $649.99 and include a large variety of products. They are meant to be an affordable and reliable option for fish owners.
Their goal is to provide a healthy, happy home for your fish. They specialize in both freshwater and saltwater aquarium products. Their specialized equipment works to provide your fish with a clean home where they can strive.
Their many products include starter kits, tank filters, gravel, high-quality fish tanks, cartridges, air pumps, and replacement filter media. In addition, they also sell backgrounds, décor, cleaning tools, water conditioners, fish food, and much more. Their fish tanks range in size from one gallon up to 125 gallons.
Their products are suitable for a wide variety of different species of fish. You can buy their products in-store or online through Petsmart. You can fulfill all of your fish needs through their large variety of aquarium products.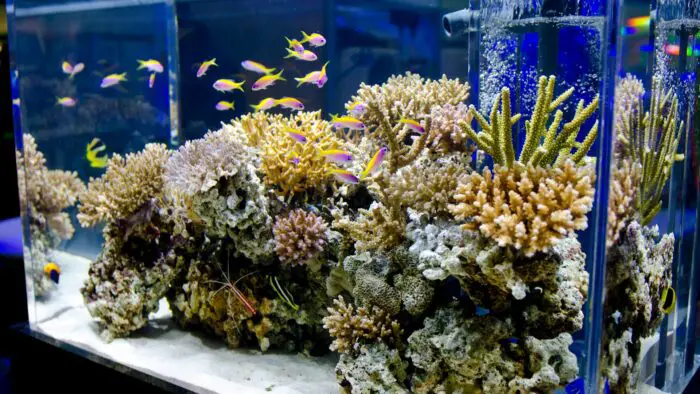 Common Top Fin Products Sold
Top Fin sells a large variety of different fish products at Petsmart. Some of their most sold products include heaters, tanks, and pumps.
Top Fin 100-Watt Aquarium Heater
Top Fin's 100-Watt Aquarium Heater is a submersible heater ideal for fish tanks that are 10 to 20 gallons in size. The heater works to provide accurate temperature control with an automatic shut-off system to provide overheating. It is made from shatter-resistant quartz glass and is completely submersible.
In addition, its double-layer design allows for even heat distribution. It is an affordable heater option that is available in several different sizes, allowing it to work on different-sized aquariums.
Before setting it up, it is important to read the Top Fin aquarium heater instructions. This will ensure that the heater will properly work, creating a safe environment for your fish.
According to the instructions, the user should submerge the heater before plugging it in. After reading all the safety instructions in the packaging, place the heater should be in the water until it is at the minimum water level. You should only operate it within the water for safety reasons.
The heater will automatically operate according to the temperature that it is set to. Once the water reaches the temperature it is set to, the heater will turn off until the temperature changes.
For correct use, be sure that the heater is properly plugged in. Be certain that the surface is above the water level mark. In addition, you also want to make sure you have a properly sized filter and that the water is well circulating.
Make sure to do your research before buying your fish to find out what temperature they need. It is vital for their health that you don't make it too cold or too hot. The temperature you should have your fish tank at will vary by species.
Top Fin Silenstream Large PF-L Filter Cartridges Refill for PF30
Top Fin Mini Aquarium Air Pump
Another popular item is the min aquarium air pump from Top Fin. The pump is ideal for anywhere from five gallons to 170 gallons. It can be a very beneficial addition to your fish tan, no matter the size.
The air pump circulates the water in your aquarium to provide a healthy environment. It has a compact, durable and energy-efficient design to work effectively in your fish tank. The circulating water from the pump works to promote movement in your aquarium's decorations and aeration products.
This air pump is budget-friendly and simple to use. All you have to do is connect the tubing and airstone to the pump nozzle. Once connected, you simply turn the power on and it will begin to operate.
Air pumps are beneficial as they create surface agitation, increase oxygen and also prevent stagnant water. This leads to a healthy environment and can help prevent algae from growing in your fish tank. Though you may not need one for all fish tanks, they can be beneficial for your fish and plants.
For some fish that are more sensitive, like Bettas, an air pump may be too much. Be certain to research the type of fish you are getting to ensure an air pump is the right choice for them. However, oftentimes your fish will benefit from having an air pump in their tank.
Top Fin Aquariums and Fish Products
Top Fin is manufactured by United Pet Products, which is owned by Spectrum Brands. They operate the manufacturing plant in Earth City, Missouri.
Top Fin is an exclusive brand for Petsmart and you can buy their products in-store or online. They have hundreds of available items that include starter kits, aquariums, decorations, pumps, filters, and gravel. In addition, they also sell fish food, automatic feeders, plants, water conditioners, and much more.
Top Fin strives to provide a healthy and also happy environment for your fish. They specialize in both saltwater and freshwater fish care. Some of the most popular products they sell include heaters, pumps, and aquariums.
Do you have any questions about who makes Top Fin aquariums? If so, please ask any questions regarding the company and its products in the comment section down below.
Read more about: LED Lights For Planted Freshwater Aquariums