Last Updated on April 11, 2022 by admins
Wondering how to repair cracked aquarium glass? Stay with us in order to find out.
Whether you have a large tank or a small fishbowl, cracks in the glass can happen to anyone. It may seem to you that you have all the strings in your hands, and the next minute, you are fighting to save everything you can in the room.
There is no need to panic if you notice cracks because in most cases fixing is a fairly simple process that can be done with a few basic supplies. Therefore, today we will explain how to repair cracked aquarium glass – step by step.
So, let's get to the point.
A Detailed Guide On How To Repair Cracked Aquarium Glass
Cracked glass can cause major problems if not resolved in time. Small cracks get bigger over time, which can eventually result in breaking up the entire aquarium and causing huge damage.
Here are the steps for how to repair cracked aquarium glass:
Step No. 1 Surface Preparation
Empty part of the entire aquarium tank, depending on the location of the crack. You can do this with a container or a bucket. Transfer all fish, plants, and decorations to the spare tank. Make it spacious enough for pets to have a good time until the whole project is complete and safe to use.
Step No. 2 Seal Removal
Scrape off the old layers of sealant with a razor blade scraper. Note that only the silicone that is near the cracked or leaky area needs to be removed, not the one from between the glass panels.
Step No. 3 Cleaning The Cracked Area
It is necessary to wipe the area that will be treated later, with a clean and dry towel, and apply a small amount of acetone. Then wipe again to remove any residue or foreign material. Finally, let it air dry for the next 15 minutes.
Step No. 4 Sealing Of A Cracked Area
Now we come to the part where we talk about how to repair cracked aquarium glass. Here sealing plays a major role. It is recommended to use a 100% non-toxic silicone sealant to seal up the cracked or leaky spot. Only in this way will you be able to protect the health of your fishes and live plants.
Upon completion of sealing, you can use a caulking tool or a damp finger to level and thoroughly cover all "dangerous" areas.
A crack in the glass can also be repaired on the outside, but keep in mind that repairing on the inside is far more effective, as water pressure will tighten the seal. If you apply the sealant on the outside, there is a good chance that the water pressure will push the silicone off the glass.
Step No. 5 Drying Of The Applied Sealant
One of the key parts of this whole process is drying. Therefore, allow the applied sealant layer to dry completely for at least 24 hours. At best, even 48 hours.
Many are wondering how to repair cracked aquarium glass quickly, and aren't really in the mood to wait for everything to dry. Try not to be one of them. Drying will allow the sealant to be set properly. If you are in a hurry you can even use a portable heat source like a heat lamp to escalate the sealant to properly get sealed up. Please note that the heat does not exceed a temperature higher than 110° Fahrenheit.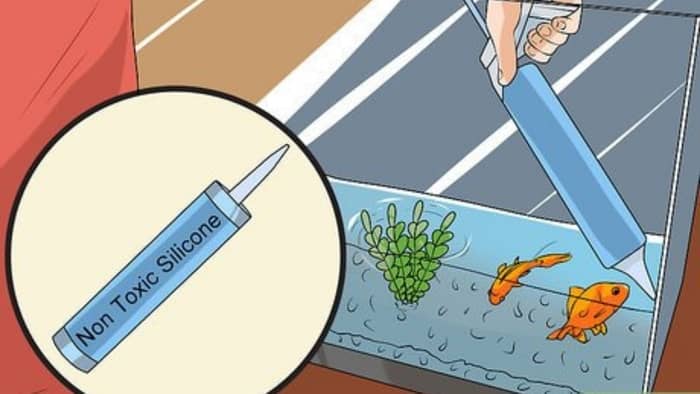 Step No. 6 Monitoring The Situation
To make sure everything is in place, you need to monitor the situation for a few hours. It is necessary to inspect all the glass panes for more cracks or leaks. Also, pay attention to the treated area to make sure the water pressure hasn't loosened up the sealant.
You can even do a test with a paper towel. Simply place a paper towel on the treated area and leave it for at least two hours. If the napkin is still dry – congratulations you now know how to repair cracked aquarium glass.
Step No. 7 Return Of The Inhabitants & Decorations Back To The Tank
Once you are sure that the glass has been fixed, it is time to return your aquarium pets to the tank. Don't forget to clean the plants as well as all the décor before placing it back inside.
As for the order, it is the same as before. First, it is necessary to clean and restore the substrate, and then other rocks and objects located at the bottom of the tank. Once you are done setting up, carefully transfer back your aquatic pets from your aquarium backup.
In Conclusion
Aquariums are unfortunately prone to cracking, but the good news is that most of them are very easy to repair. With the right tools, you can fix it to be good as new.
Do you have any of your tips and tricks on how to repair cracked aquarium glass? We would love for you to share them with us.
You may also be interested in Crushed Coral For A Freshwater Aquarium; What Are The (Dis) Advantages Of Using It?
FAQs
How Do You Repair Cracked Glass?
Here are the steps to repair cracked aquarium glass:
- Surface preparation,
- Seal removal,
- Cleaning the cracked area,
- Sealing of a cracked area,
- Drying of the applied sealant,
- Monitoring the situation,
- Return of inhabitants & decorations back to the tank.
What Happens If Aquarium Glass Breaks?
In the worst-case scenario, if your aquarium glass breaks, the water will leak out and your aquatic pets will unfortunately die. Or for example, if an aquarium breaks and small pieces of glass end up inside the water, your fishes may accidentally swallow small particles of glass, which can cause damage to internal organs, eventually leading to their death.
How Do You Fix Hairline Cracks In The Aquarium?
A hairline crack is a tiny cleft that sometimes develops on the inside or outside of the glass. It can most often be found at the bottom, edges, and in the front of the aquarium.
The repair steps are very similar to repairing cracked aquarium glass and they are:
- Removing pets, plants, and decorations from the aquarium tank,
- Draining water from the tank,
- Applying aquarium safe silicone sealant,
- Drying.
Can Damaged Glass Be Repaired?
Don't panic, almost any cracked aquarium glass can be repaired.