Last Updated on January 18, 2022 by admins
Wondering how to plant carpet seeds in an aquarium? Click to learn all about these perfect aesthetic accessories for your aquarium.
Creating a carpet of plants in an aquarium can simulate vast open fields, but also give it an amazing and unique appearance. They can make the bottom look smooth and above all fascinating. Some plants are harder to grow and maintain than others, but they all provide a slightly different look and feel within the aquascape.
How to plant carpet seeds in an aquarium? Keep reading to learn all the tricks and tips for success in this endeavor. Let's go!
Things To Pay Attention To
Choosing Aquatic Plant Seeds
The first step on this journey is choosing the ideal aquatic plant seed. The offer is quite large and diverse. These are some of the most popular varieties of carpet seeds at the moment:
Glossostigma Elatinoides Seeds
Dwarf Hairgrass Seeds
Java Moss Seeds
Proper selection is important for the health and looks of your tank, and it must fit with your needs as well as the needs of your aquarium pets.
Substrates
As always, soil type determines the growth of planted seeds. Therefore, the most important thing is to study the compatibility of your soil and seeds to ensure that your efforts do not go to waste.
The same goes for substrates. There are several types of substrates, some of which are more and some less suitable for your aqua space. Some types of aquarium carpets do not prefer too coarse substrates, so it would be best to choose/combine powder-type substrates and nutrient-rich substrates.
Biological Compatibility
Another thing you need to pay attention to is the compatibility between the carpet and your aquatic pets. Therefore, it would be best to map your aquascape plan first to achieve balance and harmony between all the elements.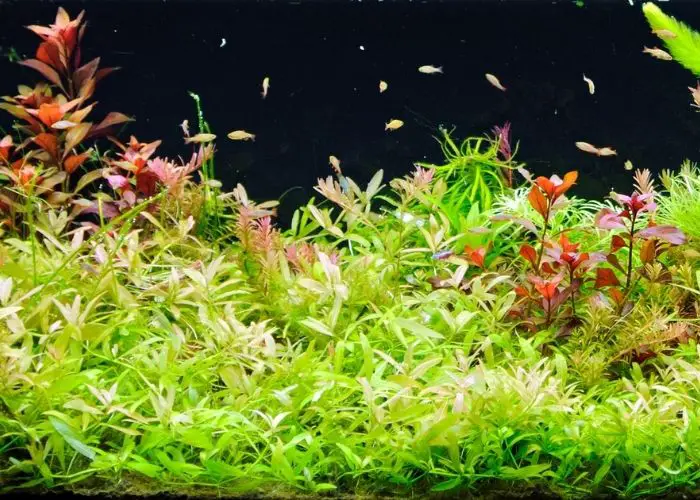 How To Plant Carpet Seeds In An Aquarium
Select The Appropriate Substrates
As we have already mentioned, it is necessary to choose the appropriate substrates so that your aquarium grass carpet can successfully sprout and then spread.
Layout
Determine where you want to place your seeds. It is very important to remember that it is difficult to relocate seeds after planting. So, by no means miss this step.
Substrate Wetting
This is also one of the very important steps. When it comes to the planting process, the water level should be at the same level as the substrate. This will allow you to avoid the seeds floating around the tank (resulting in a fruitless endeavor).
Seed Scattering
Spread the seeds around the area you have chosen. You may be tempted to use all the carpet seed you purchase, but you don't have to do it. Try to avoid grouping the seeds in one area to avoid overgrowth of one area over another. Carpet plants spread as they grow and over time will coalesce and provide equal coverage throughout the aquarium.
Adding Extra Water
Adding a little more water will provide adequate moisture to your aquarium substrate that your carpet seeds need to germinate. Remember, it is necessary to do it more than once, as often as thrice a day. This will prevent the substrate from drying out.
Also, try to avoid excessive watering to avoid over-soaking the substrate. A sprinkler or a spray bottle will help you with this.
Fertilizer & CO2
This part of the procedure is optional, but great if your budget allows it. It will accelerate the healthy growth of your carpet plants. Also, if you don't have the funds to invest in fertilizer, you can skip this step by adding extra light.
On the other hand, CO2 is necessary because plants need it to grow and spread faster.
Light
Aquarium grass grows best in the presence of light. However, never keep it in direct sunlight as they also need shade to grow. You can also infuse photons using a lamp or any other electric light source.
Find more information about How Much Light Do Aquarium Plants Need?
Fill The Tank
Next in line is filling the water in the aquarium tank. It is very important not to add fish to it right away.
Germination And Turning Into Plants
Once you have completed the above steps, leave your aquatic plant seeds for 5-10 days. You can watch it, but try not to move them. As for the time it takes for carpet seeds to turn into plants, it is usually around 85-90 days. In addition, growth depends on the supply of all essentials and nutrients.
How To Maintain Carpet Seeds In An Aquarium
Trimming
To avoid the overgrowth of carpet plants, trim your plants as they grow. Height depends on your preferences. The process is very simple, you can use special trimming scissors and tweezers, but be careful and gentle to avoid uprooting your plants.
Heat & Carbon Dioxide
Let the heat limit stay below 28 degrees Celsius. Too much heat is not good for plants or aquarium pets neither. Furthermore, keep to a low carbon dioxide content, otherwise, the seeds start to decay even before they start to grow.
Regular Checkups
Sometimes an imbalance can occur, so regular checkups are necessary to keep your aquarium carpet healthy. Thus, for example, they tend to turn brown or dry if not exposed to appropriate conditions of moisture and light.
By introducing regular inspections, you will get a hint of such problems and will be able to make timely, immediate adjustments accordingly.
To Wrap Things Up
Aquarium carpet grass is a great aesthetic element that you can add to your aquascape. It is so beautiful, unique and above all stands out from other aquatic plant species. Maintenance is not too difficult but does require time, however, the results worth all the effort. All you need is a good light source and the right level of temperature and carbon dioxide in the aquarium.
That would be it! Now you know how to plant carpet seeds in an aquarium.
What are your experiences with aquarium grass carpets? Do you like it or would you rather pass? Let us know in the section below.
Read more about The Best Aquarium Light To Prevent Algae