Last Updated on October 24, 2022 by admins
A sump is nothing less than an extra container designed to hold water and equipment in your tank. Here are our tips on how to make an aquarium sump.
The sump is always a good choice in marine/saltwater aquariums. However, it's a great choice for freshwater aquariums as well. Did you know that you don't have to invest hundreds of dollars in expensive ones? You often ask us how to make an aquarium sump at home. Therefore, keep reading, and let us help you!
Why Should You Use a Sump Filter
There are many advantages to using a sump, and these are just some of them. It provides additional space to accommodate your return pump, skimmer, heater, and/or probes. In this way, it adds an extra volume of water to your system. Best of all, it doesn't have to be made of any particular material at all. An aquarium tank can be as simple as a plastic tube or handmade acrylic. It all depends on your desires.
Let's move on to the basic steps for making a DIY aquarium sump.
1. Planning Of DIY Freshwater Aquarium Sump
Determination of flow rate in the sump
Determining the ideal flow is very simple. It should be around 6 times per hour compared to the tank size.
You can also calculate it this way. If the tank is 48 ″ x15 ″ x24 in size, it has about 75 gallons of water (280 liters). Thus, the flow rate should be about 450 gallons per hour (~ 1700 liters). That way the water will be able to pass through the sump around 6 times every hour.
Determining the size of the sump
Your sump should be at least 20% of the size of your main aquarium tank. So if you have an aquarium that holds 75 gallons of water, your ideal sump will be at least 15 gallons. However, you don't always have to stick to the calculation. It would be best if you could choose the biggest one that can fit in your stand.
Finding sump dimensions
If we remember our example above, the calculation is. If you have a tank measuring 48 ″ x15 ″ x24 ″, the ideal sump would be 36 ″ x11 ″ x18 dimensions. It would hold somewhere around 29 gallons of water which is actually 35% of the volume of water in the main tank of the aquarium.
2. Building The Diy Aquarium Sump
Selection of ideal pipes
Diy sumps usually have two drain pipes. Respectively, that is primary and secondary drainage (from the main tank and the sump). The difference between them is that the main drain takes most of the load as opposed to the secondary which takes only the excess.
When choosing the ideal PVC pipes, it would be best to take thicker ones, intended for water, not for electrical installations. Also, when measuring a pipe, measure the inside, not the outside diameter. For a better understanding, these are typical flow rates of different PVC pipe diameters:
1/2″ pipe: 200gph (~750lph)
3/4″ pipe: 400gph (~1,500lph)
1″ pipe: 600gph (~2,200lph)
25″ pipe: 1,000gph (~3,800lph)
5″ pipe: 1,400gph (~5,300lph)
2″ pipe: 2,200gph (~8,300lph)
5″ pipe: 3,200gph (~12,000lph)
Our example has 450 gallons per hour, which means a 1″ PVC pipe will fit perfectly. In case you decide to install only one, then use 2″ PVC pipe. A larger diameter will prevent the accumulation of too much dirt which can clog the pipe and create a problem. We will also mention the return pump. In our example, one 1" PVC pipe will do its job well because it already has a higher flow rate than a pump.
Tank drilling
When it comes to drilling a tank, it doesn't matter where. You can drill it wherever you think it's appropriate to place your DIY sump. Whether it is the bottom, side, or back of your aquarium tank.
It is very important to note that you don't choose tempered glass. It can't be drilled because it will break. In addition, it would be good to leave the drilling of the glass to a specialist to prevent possible negative outcomes.
Well, let's get to the point. You don't have to bother with the horizontal drilling position. It's only important to pay attention to the vertical, top, and bottom positions. The center of the primary drain must be aligned with the center of the secondary drain.
As for the water level, it's usually about 1/2 inch above the primary drain. That would be an average. Then, as for the return pump, it should be submerged to half. If the pump is completely submerged, it's difficult to drain the water from the pipe into the tank. As a result, water flows into the sump through the return sump.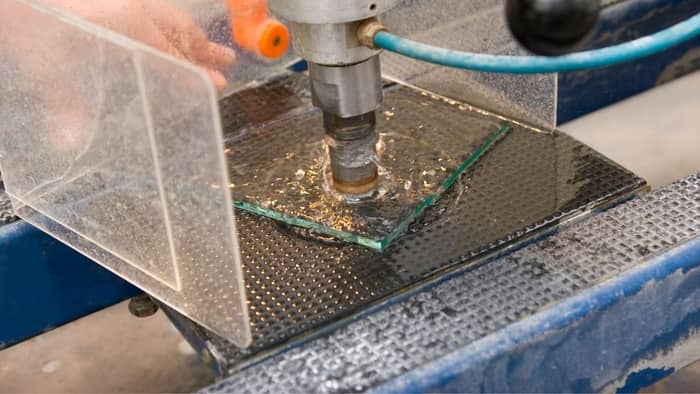 Learn more about: How To Set Up An Aquarium Sump
Classic Freshwater Aquarium DIY Design
To answer the question of how to make an aquarium sump, we need to ask ourselves what a sump consists of. It, therefore, consists of three main parts:
Mechanical Filtration Chamber
Biological Filtration Chamber
Return Chamber
A mechanical Filtration Chamber cleans the water from large particles of dirt such as silt, sand, loose scale, clay, and many other organic substances. The biological filtration chamber provides "fertile ground" for the reproduction of good bacteria. They then decompose dangerous ammonia into nitrites and then nitrites and nitrates.
In this way, they create a comfortable and safe aquarium environment. Finally, we will say a sentence or two about the Return Chamber. After passing through the previous two filters, it is time for the water to oxidize before returning to the pump.
Plumbing
It's finally time for plumbing. The process is simple; it is necessary to connect and then silicone PVC adapters. Don't forget to add nets, so that the drain doesn't swallow the fish.
Let's see if you put the parts together well, it's time to test. When you start adding water, as the water grows, it should begin to overflow through the primary drain. Then, reduce the flow so that the water starts to overflow through the secondary drain. Once you make sure everything is working well, you can use PVC Cement (H) to cement all the pipes outside the main tank.
That would be it! Your DIY freshwater aquarium sump is finally finished.
Final Thoughts
While buying something is always a lot easier than making it yourself, isn't it better to express our creativity? Making your DIY sump can be a unique and fun task. Are you ready to embark on a journey?
We hope that this article has managed to answer your "how to make an aquarium sump" question. How will we know if you do not write to us below… We're expecting you!
Read more about: Aquarium Sump Pump Size Calculator