Last Updated on January 19, 2022 by Fabiola L.
Aquarium background is a great way to make everything stand out. Read more about do-it-yourself aquarium backgrounds.
Aquarium backgrounds are an interesting and unique way to create an atmosphere in your aquarium. With it, you can deepen, add color and bring intrigue to the fish tank. They also come in a wide range of options, from 3D rock formations to ocean floor vinyl motifs. However, one should be careful and know whether the background of the aquarium helps the fish, harms the fish, or is neutral.
Aquarists, this time we will talk about "do-it-yourself aquarium backgrounds". So, if you are in the mood for a little creativity (with no hassle), keep reading!
Why Do You Need Aquarium Background?
However, let's talk about some important things before we look at some of the best fish background ideas.
While most will think that the background is there solely because of the visual effect, this is far from the truth. Namely, some fish are actually afraid of their own reflections that they can otherwise see on regular aquarium glass.
So, when there is background is placed on the walls, your fish are not able to see their reflection, which reduces a lot of stress for both, you and your aquatic pets.
In addition, the background is there to ensure optimal fish health as well. For some fishes, darkness helps them remain calm and safe. So, the dark background will mimic their natural habitat and thus ensure a comfortable life.
On the other hand, if your fish are not bothered by light or darkness, you can use the background of the tank to complement their colors and help them stand out. Therefore, for example, you can make a contrast between the fish and the background, light-colored fish vs. dark background, and vice versa.
The Best And Simplest Do-It-Yourself Aquarium Backgrounds Ideas
Black Aquarium Background
All you need for this quick DIY procedure is spray paint, a plastic bag, duct tape, and scissors. First, make sure you clean the glass of any dust or watermarks before painting. Otherwise, you will end up with visible stains that are locked under the layers of paint.
Then, wrap the other three sides you don't want to be painted on. You can use the tape and the plastic wrap or even the trash bag. Also, you should mask the top (opening) of the tank so that paint can't get inside. This will protect your fish from possible fatal consequences.
Now is the time to paint. It is important to use horizontal strokes extending over the edge of the surface. Also, be sure to keep the 8 "-10" nozzle away from the glass. Once dry, your fish tank with a black background is ready to use.
3D Foam Fish Tank Background Or Caves
Materials needed for this procedure include foam slabs, aquarium silicone, drylock, and cement colorants, as well as a knife and a vacuum cleaner.
It would be best to measure first and then sketch out your idea. You can then load that paper into the aquarium tank to get an idea of what it will look like. Glue all the parts with aquarium silicone and fasten with a heavy object, then leave overnight to seal tightly.
Once it dries, you can start carving. This part is pretty messy, but a vacuum cleaner can help. Then, it is time to paint. You can paint as you wish, there are no rules. As for putting it in the tank, you have to fasten it either by siliconing it on glass or by using magnets on both sides of the glass. Whichever way suits you better.
That would be it; you are done with the job.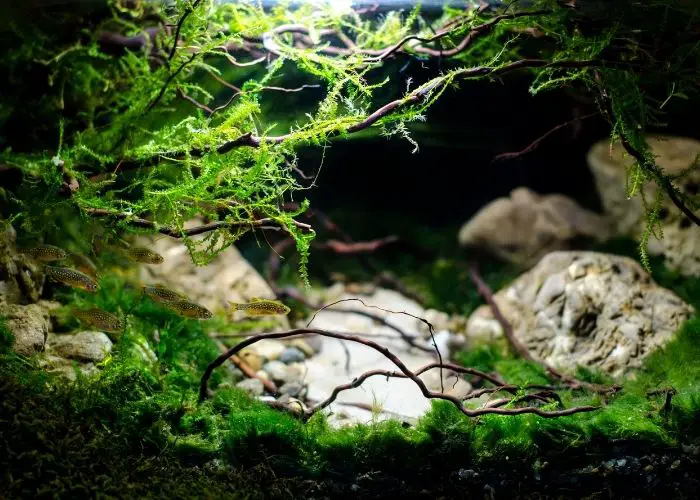 Aquatic Plants As A Natural Background
This is one of the easiest and most natural ways to create an aquarium background. Simply place a row of tall aquatic plants in the back of the tank. Best of all, you can use real or plastic plants, whichever suits you most.
This way of decorating the aquarium gives the aquarium pets more space to explore and hide. In addition, there is a wide selection of aquatic plants that you can browse and choose from. This will allow you to customize your tank to the aesthetic you are looking for.
Custom Photo Backdrop
You have probably noticed that most aquariums have a classic photo backdrop. Accordingly, you too can make your own background. Just find a photo you like and print it at an office supply store. Simple as that!
Also, don't forget to measure the tank as well as the printed photo to make sure it will cover the entire back of the tank. Then, just tape it, and that would be it.
Wrapping Paper As A Tank Background
Did you know that you don't have to spend a whole fortune to make Diy aquarium backgrounds? Using wrapping paper is a very simple method of decorating an aquarium tank. It is easy to remove and replace, and also comes in tons of fun patterns and colors.
Keep in mind that this method is only suitable for those aquarium pets that are not picky or in need of a specific environment. Finally, with so much diversity, you and your fish will always have something fun to look at.
In Conclusion
Whether your fish habitat is tiny or giant, the right background can turn it from a mediocre-looking into a true masterpiece. Aquarium backgrounds can fit inside or outside the tank and can comfort and relax your aquatic pets. In addition to visual effects, the appropriate background can eliminate the light that causes algae and help keep the tank clean.
Now it is your turn to take your aquarium to the next level! Which of these do-it-yourself aquarium backgrounds ideas did you like the most? Let us know in the section below.
You might also like How To Clean Old Aquarium Gravel – Step By Step Guides