Last Updated on April 8, 2022 by Guillermina
Looking for cheap aquarium decoration ideas? Stay with us to find out what our favorites are.
Ahhh, we all know how annoying it is when your inner designer won't come out to play. Therefore, read on about cheap aquarium decoration ideas below.
Aquarium décor benefits both, the owners and the inhabitants themselves who live in the aquarium tank. Its special role is to create an atmosphere and enhances mood. With so many decoration ideas, it may be difficult for you to choose the one that is best for you. Accordingly, we have made a selection of the most creative and pretty affordable ideas for you, which should not require breaking the bank.
Things To Consider When Choosing Aquarium Accessories
Did you know that you can decorate your aquarium without spending a fortune, and without stressing your fish?
Before you start looking for cheap aquarium decoration ideas, these are the things you need to pay attention to make sure you are providing only the best for your aquarium pets. So, let's get to the point.
Consider:
The size of the aquarium tank,
The size of the elements,
Activity for your pets,
Choice of the theme (natural or wild),
Focus points.
Best Cheap Aquarium Decoration Ideas
Buddha & Forest
Imagine what it would be like to have your own little Zen corner in the home. Bamboo is one of the best options as it will easily stay in the water and hold up well over time. In addition, it will add a wonderful feature to any interior design.
In addition to being compact, your aquarium will give a full forest feel, and pets will be able to swim freely wherever they want. You can get the Buddha figurine in most fish stores or online. Buddha figurines elicit a calming vibe with clarity and quietness, so it is no wonder they can be found in almost every home around the world.
The Spongebob Paradise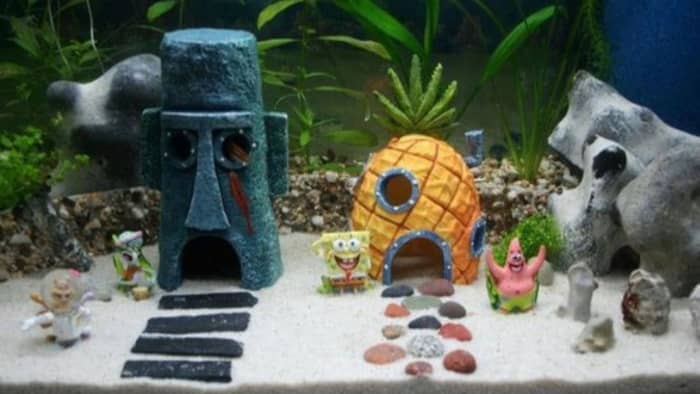 If you are looking for crazy-unique yet cheap aquarium decoration ideas, consider our next favorite design.
Variations and contrasts in its colors simply draw attention to the beloved pineapple home found under the sea. You can find all the elements needed to set up this decor online, and best of all, they are quite affordable. You can even add a bridge, an inexpensive feature that will make you feel like your fish are trekking to and from their pineapple home every day.
Beach Vs Jungle
The best part of this type of tank design is that it offers variety. Accordingly, your aquarium pets can choose whether to go to the plant-sparse side of the tank in search of free movement or if they want to hide, they can go into the "jungle."
This is one of those cheap aquarium decoration ideas that will add vibrancy to the room it is in while making your aquatic pets happy.
Getting sand and plants is not a big deal and should not be too expensive unless you choose more expensive ornaments. Alternatively, you can even get live plants. This will give a special vibe and your tank will feel like a living portrait too.
Super Mario Bros
If you are looking for cheap aquarium decoration ideas that will still blow everyone's mind, this design is ideal for you. Besides, gamers will especially appreciate it.
It is very easy to make and not complicated at all, the 8-bit structures of the staircase and castle are replicas of the structures found in the original game. You can also add the Goombas, small original Mario figurine, floating bricks, and even question boxes. These are all references to the original game, which will make everyone who sees it laugh.
If you find it difficult to find original pieces of the game, you can always make replicas out of Legos or some other plastic craft pieces.
A Cute Little Submarine
The chaoticness and simplicity are what set it apart from all other cheap aquarium decoration ideas. With all these elements together, it can seem as if the submarine crashed off the coast of an exotic island, giving the tank an adventurous tone. The fish will have all the freedom to move around and in addition, they will be able to stay more towards the top for more breathing space.
Such diversity and creativity give your tank a good vibe that you and your pets will surely enjoy.
To Wrap Things Up
There are no overly strict and universal rules for adding decorations to your aquarium tank. The most important thing is to choose what you like, provided that you have taken all measures to ensure that they're safe and non-toxic. Since aquatic pets are usually quite indifferent to the vibrant colors or unusual decorations, it all comes down to your personal choice.
We hope you enjoyed our 5 unique and cheap aquarium decoration ideas.
Have you ever tried any of this? Share your experiences in the section below.
Take a look at Your Ultimate Guide To Saltwater Aquarium Filter Types
FAQs
How Can I Decorate My Fish Tank For Cheap?
Here are some ideas for cheaply decorating your aquarium tank:
- Plastic instead of living plants,
- Rocks that are made of synthetic materials (heavy plastic or ceramic),
- Artificial driftwood, designed to resemble authentic driftwood,
- Decorations made of plastic and synthetic materials.
What Household Items Can I Use To Decorate My Aquarium?
These are some items you can put in your tank without worrying about the safety of your pets and live plants:
- Glass items,
- Clay and terracotta pots,
- Coffee mugs,
- Infant safe plastic toys.
In addition, you can even use different pictures and posters as backgrounds.
Can I Make My Own Aquarium Decorations?
That's right, you can make your own aquarium decorations. The Internet is full of ideas for such a thing, and all you need is a little free time and a lot of creativity.
Can I Put Plastic Toys In A Fish Tank?
Most plastic toys, ornaments, and figurines are safe to put in the aquarium. Make sure that items are made of rigid plastic, not painted, and don't have any sticker decals on them.