Last Updated on May 16, 2022 by admins
Can Anubias grow out of water? Find out what experts have to say about this beginner-friendly plant.
Anubias is one of the most popular freshwater aquarium plants. In addition, it is ideal even if you have never kept aquarium plants before and you are looking to start your first planted fish tank. It is also a favorite among experienced aquascapers. This is primarily due to its versatility. This plant thrives in a variety of environments, it is hardy and easy to maintain.
However, many are wondering can anubias grow out of water? Therefore, stay with us and find out the answer to this interesting question.
Anubias Plant Profile
Did you know that this versatile plant got its name after the Egyptian god of death Anubis? Anubias plant originates from the rivers and streams of western as well as central Africa. Apart from God, it got its name from the dark and shady locations where it usually grows.
As for the aquatic world, this plant is one of the low-tech and hardy plants. This actually means that it doesn't need high-intensity lighting conditions to thrive and in addition, can survive in a wide range of water parameters. The brighter the light, the leaves will grow more compact. However, keep in mind that it is recommended to keep this plant under low to medium light, namely the leaves are susceptible to excessive algae growth under high lighting.
In terms of physical description, the Anubias plant has wide, broad leaves and dark green coloration. Furthermore, the size of the leaves depends on the species of plant and can vary from a small length of half an inch to as much as 5 inches.
As we have already mentioned, this plant is most often used for growing in an aquarium, however, many ask the question "can anubias grow out of water". Therefore, keep reading and find out.
Can Anubias Grow Out Of Water?
Anubias is a genus of semi-aquatic plants sold in stores and is intended for planting freshwater aquatic landscapes. Thus, it can grow quite successfully outside the water. Most people grow it submerged in water, however, this plant actually grows better emerged, that is, with their leaves out of the water.
Unfortunately, it is often neglected as a candidate plant suitable for growing in terrariums. Since these are semi-aquatic plants, they will thrive best in moist and humid conditions that are most easily achieved inside a closed tank.
How To Grow This Plant Outside The Aquarium?
Now that you know the answer to the question "can Anubias grow out of water", it's time to show you how to do it too. The best option for this is a terrarium.
Materials needed:
Tank/terrarium,
Scissors (for pruning and trimming plants),
Chopsticks (for easier movement of plants in tight and hard-to-reach corners),
Spoon (to transfer media),
Substrate,
Fine gravel (decorative mulch).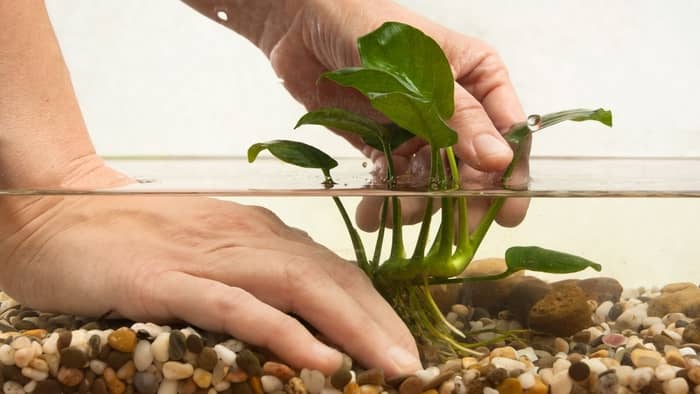 Anubias Care
These are the basic steps for caring for this versatile plant.
Light Requirements
This plant is one of those (rare) plants that don't require light to thrive. Moreover, excessive exposure to light is not desirable at all. In the absence of natural sunlight, the plant will be pleased with the occasional inclusion of a desk lamp. Namely, it can cause a greenhouse effect and eventually lead to a sickly yellow color of the leaves.
Growing Media
Now that you know the answer to the question "can anubias grow out of water", it's time to say a few sentences about the medium. It is recommended to use some of the growing media specially formulated for the cultivation of aquatic plants. Furthermore, it is very important to pay attention to one thing, never bury the horizontal creeping stem of the plant inside the media. Namely, the stem should always be exposed and sit just on the surface of the media.
Water Requirements
Since it is a semi-aquatic plant by nature, it is advisable to keep your Anubias plant moist. Therefore, you should not allow the plant to dry completely at no cost. Also, keep in mind that Anubias is not suitable for combining with all types of terrestrial plants due to the fact that not all terrestrial plants like moisture equally.
Feeding Requirements
Anubias plants don't grow quickly and therefore have no special feeding requirements. If you really want, you can incorporate a few pellets of a coated slow-release fertilizer or apply a highly-diluted water-soluble fertilizer to the surface of the leaves; this should meet all its needs.
In Conclusion
Anubias is a beautiful and versatile plant. Given that it is a genus of semi-aquatic plants, it is no wonder that many wonders "can anubias grow out of water". The answer is yes, this plant can successfully grow and thrive both in and out of the water.
Anubias is also known among hobbyists as a hardy plant, which makes it ideal even for beginners. Once you have successfully planted it, they should be good to go.
We hope you found this article useful. If you have any questions feel free to contact us in the comments below. We are expecting you.
You might be interested in Cherry Hedge Aquarium Plant; The Best Tips For Care, Maintenance & Much More
FAQs
Does Anubias Need To Be Fully Submerged?
No, it does not need to be completely submerged; moreover, Anubias can grow both partially or fully submerged.
Can Anubias Grow On Soil?
That's right, it can grow in the soil, that is, in growing media as long as the rhizome is not buried.
How Do You Grow Anubias Above Water?
Anubias can be successfully grown from water. All you need is a container or terrarium and good growing conditions. With a little effort and maintenance, this plant can shine in full splendor.
Can Anubias Be Left Floating?
Anubias is rightly considered a master of survival. Anubias is rightly considered a master of survival. This plant can spend several months floating and still grow quite well. This beginner-friendly plant can be floated in the tank or attached to decorations, whichever suits you best. In addition, it is very important to note that its thick structure allows it to be placed even with some aggressive fish.