Last Updated on February 14, 2022 by Marco C.
This is all you need to know about aquarium maintenance service prices and the benefits of using them. It's time to finally relax and enjoy watching your own aquarium.
Even the birds on the branch know that only a clean aquarium is a happy and healthy aquarium. However, in this hectic time, not everyone has enough time to set aside for aquarium maintenance. Therefore, various professional aquarium maintenance services come to our aid.
Keep reading to learn all about aquarium maintenance service prices and the benefits that come with using it.
Why Use An Aquarium Maintenance Service?
Maybe before you bought an aquarium you didn't think about how much time and effort it actually takes to maintain it. Truth be told, a sparkling clean aquarium stays in that state for only a few days after a thorough cleaning of the tank.
Maintaining its cleanliness is not only for aesthetic purposes, but also means maintaining the health of your aquatic pets. Also, we must emphasize that deep cleansing is not an hour-long ordeal, but an all-day event that can easily take away your free time and energy. Self-cleaning and maintenance are manageable, but it is advantageous to hire professional aquarium maintenance services. Let's take a look at some of the benefits it provides.
Cleaner Aquarium Tank
If it is not cleaned regularly, chances are high that you will end up with an aquarium that is dirty, cloudy with contaminants, and infested with algae.
As for the frequency of cleaning, the aquarium should be deep cleaned at least once a month. However, the pH and temperature should be measured and maintained in between the monthly cleaning, and the water should be changed weekly.
While it is difficult to find time for regular cleaning to prevent possible diseases and problems, using an aquarium maintenance service can greatly reduce the time you have to spend cleaning, inspecting, and maintaining your aquarium.
Aquarium & Livestock Analysis & Reports
They are educated experts and professionals – and thorough analysis and reports on the aquarium and its livestock are one of the most important things that the aquarium maintenance service can offer.
After providing their services, companies usually fill out a service report that provides information on all water parameters, temperature, algae growth, the overall health of aquarium pets, the condition of aquarium equipment, filtration servicing, additive dosing, etc.
Selection Of The Best Products & Equipment For Aquariums
Aquarium maintenance services have access to the best products available on the market, which are difficult for aquarium hobbyists to access. Best of all, you don't have to leave your home at all because the service can bring them straight to your front door.
Healthier & Happier Aquatic Pets
Whether your aquarium is saltwater or freshwater, overall health is truly paramount. Regular inspections provided by aquarium maintenance services give the inhabitants of your aquariums a chance to be happy and healthy. Lastly, they can alert you if they notice that there are some issues so that the proper measures can be taken.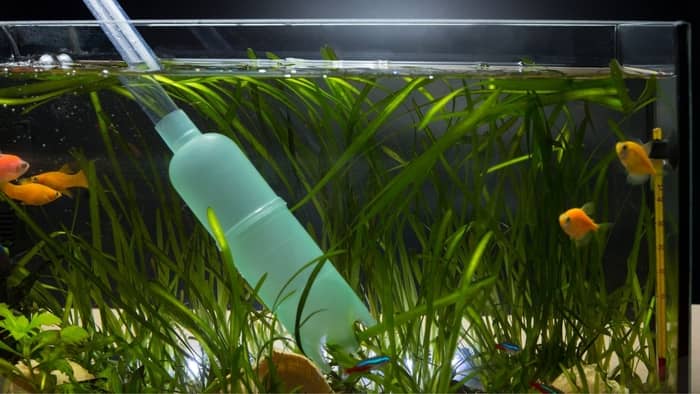 Read more about: How to Clean 3 Gallon Fish Tank?
Emergency Service
Emergencies are a phenomenon that can happen to anyone. Therefore, many services provide emergency aquarium maintenance service, even after their business hours.
Aquarium Maintenance Service Prices
It is difficult to determine a specific price because aquarium maintenance service prices depend on the services themselves. Furthermore, the size of the aquarium and the cleaning requirements, as well as the place or city you are in, play a role in determining the price.
Some of the aquarium maintenance service prices are:
Example No. 1
Freshwater aquariums – $ 0.80 cents per gallon
Saltwater aquariums – $ 1.00 per gallon
Example No. 2
Service includes labor, recommendations, technical support, and tools necessary to complete the job.
Freshwater – $ 75,
Saltwater – 90 gallons and less: $ 100.00 or 100 gallons and up: $ 150.00.
Example No. 3
This example consists of two monthly arrivals that include changing the water (15% – 25%) using a gravel vacuum, testing the water for pH, ammonia, nitrite, and nitrates, wiping algae inside the aquarium, cleaning filters, all decorations, and artificial plants, polishing, etc.
Freshwater – 99 gallons and less: $ 129.99 per month or 100-199 gallons: $ 189.99 per month.
Saltwater – 99 gallons and less: $ 159.99 per month or 100-199 gallons $ 229.99 per month.
Example No. 4
The service package consists of: algae scrub, 10% water change, suction gravel, filter maintenance, and basic testing as needed.
Prices for freshwater aquarium are:
5-20 Gallons – $ 30
25-45 Gallons – $ 40
50-75 Gallons – $ 55
80-120 Gallons – $ 70
125-180 Gallons – $ 85
Prices for saltwater aquarium are:
5-20 Gallons – $45
25-45 Gallons – $55
50-75 Gallons – $65
80-120 Gallons – $85
125-180 Gallons – $95
In Conclusion
Aquariums are the perfect way to add beauty and create a soothing atmosphere in your home or office. Aquarium maintenance experts not only keep your aquarium healthy and clean but can also educate you on how to maintain your aquarium.
Now you know all about aquarium maintenance service prices and the benefits of using them.
Have you ever used their services and what are your impressions? Let us know in the section below!
Read more about
How To Plant Bacopa In Aquarium?
FAQs
Can I Pay Someone To Clean My Fish Tank?
Of course, you can pay someone to clean your aquarium. Unfortunately, the vast majority of people are too busy with their own responsibilities and don't have enough time for regular cleaning and maintenance. That's why there are various aquarium maintenance services that you can hire to help you.
Can You Hire Someone To Take Care Of Your Fish Tank?
Today, there are a number of teams consisting of engineers, experts, and back-office support that offer assistance in maintaining and caring for your aquarium. So, yes, you can hire someone to take care of your fish tank.
How Often Should I Service My Aquarium?
The frequency of maintenance of your aquarium depends on the type of aquarium you have (saltwater or freshwater), the size, and the number of inhabitants in your aquarium. In general, a saltwater aquarium requires much more maintenance than a freshwater one.
Roughly speaking, weekly or minimum monthly maintenance is recommended for a saltwater aquarium and every two weeks or at least every four weeks for a freshwater one.